The Rise of Disruptive Technologies and the Future of Work (webinar)
July 31 @ 2:00 pm

-

3:30 pm

$29.99 – $49.99
Date: July 31, 2019
Event start time: 2:00pm Newfoundland Time
Location: Online
Presenter: David Brown, Kent Employment Law
Description:
We are on the cusp of a dramatic technological revolution that will disrupt our workplaces in a manner that our society has not experienced since our shift from an agrarian to an industrial economy. Led by such nascent technologies as self-driving cars, large-scale 3-D printing and artificial intelligence, this technological revolution will dramatically touch every industry, from trucking, construction and manufacturing to engineering, accounting and medicine.
Are we ready for this change? If managed properly, this technological leap has the potential to make us wealthier, healthier and happier. However, it may also lead to wide-scale job destruction, dramatically increased inequality and a rapid spike in permanent unemployment.
Learning Objectives:
Critical thinking about the future of work and HR's role in managing disruptive technologies
Discussion about skills redundancy and workforce training
Discussion about how automation, artificial intelligence and software developments will impact human resources as a profession.
Who should attend:
Open to all. While the speaker is a lawyer, this is not a legal topic and will be fairly general.
Format: Online – Live Webinar
Time: Log-in: 1:45 – 2:00pm (NST); Presentation: 2:00pm – 3:30pm (NST)
All login information will be sent to you via email the day prior to the session.
Both registration and payment are required for every person attending this webinar. Questions about registration or receipt can be directed to cphrnl@cphrnl.ca.
Note: If you have not received your login access information the day prior to the webinar date, or for inquiries regarding online workshops, please email.
---
About the presenter: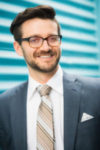 David Brown
is an individualist. His nonconformist mindset and passion for transformation set him apart in a profession steeped (and sometimes mired) in tradition. Where others spot problems, David sees possibility and promise. He understands and appreciates not just the practice but the business of law. Add to all this his disarming wit, bellowing voice, and lofty stature, and there's no mistaking him in a crowd. A trusted workplace advisor to companies in British Columbia, David is firm in his belief that employment relationships should be mutually beneficial to employers and employees alike, founded on a relationship of trust and respect.
---
Registration Fees


Registration Deadline:
July 26, 2019

Member

$29.99

Non-Member

$49.99
All pricing excludes applicable taxes.
CPD hours

Competency

1.5
• Strategy
• Professional Practice
CPHRNL offers events through the year giving HR professions the opportunity to stay on top of current topics, offers CPHRs the opportunity to earn continuing professional development hours, and everyone the opportunity to network with other HR professionals. Through the calendar you can find out what events are being hosted by CPHRNL.
The calendar of events will list all CPHRNL events and events that the Association has partnered with other organizations.
All events require online registration and payment prior to the event. Please click on the event name for further details.