FREE webinar: Disciplining Outside-of-Work Misconduct: From Inappropriate Social Posts to Illegal Protests
April 5, 2022 @ 2:00 pm

-

3:00 pm
Presenter: Bettina Xue Griffin – Senior Legal Research Associate, Blue J
Description:
From Freedom Convoy protests to conspiracy theory posts on social media, concerns are growing among employers about their employees' behaviour outside of work. The big question is: At what point does employee conduct cross a line such that an employer is justified in imposing some form of discipline or terminating the employment relationship? This question is hard to answer considering that concerning behavior typically occurs outside of work hours and off-site.

This webinar examines the difficult question in the context of unionized employees by teaching the progressive discipline framework and analyzing recent arbitration and court decisions on similar issues. Expect practical takeaways, like how leveraging technology helps practitioners answer these difficult issues.

In this presentation, you will learn:
The types of actions that can be taken by employers
Real-world examples of terminations and suspensions that were upheld
Practical insights on what the courts and arbitrators say about this issue
How practitioners can leverage technology to gain insights into these complex issues
Who should attend:
Lawyers and legal experts in the areas of labor and employment HR professionals
Format: Live Online – Zoom Webinar
All login information will be sent to you via email the day prior to the session.

Please check your junk/spam folder if it has not come through to your in-box.
Time: 2:00 pm – 3:00 pm – NST
About the presenter: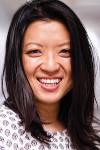 Bettina Xue Griffin
designs and builds machine learning-backed tools in areas of employment law and tax law. At Blue J, she has helped to create a platform that provides clarity of the law to employment and tax law practitioners. Blue J practitioners can use a prediction engine to predict scenario outcomes, and a factorbased decision finder to find relevant decisions incredibly quickly. The platform also has a simplified diagramming feature, and allows for digital statute analysis that streamlines research. Prior to joining Blue J, she worked as a commercial litigator and has represented clients at all levels of court in Ontario, Canada.
Registration Fees


Registration Deadline:
APRIL 3, 2022

Member

FREE!

Non-Member

$29.99
Fees and/or agenda are subject to change without notice.
CPHRNL offers events through the year giving HR professions the opportunity to stay on top of current topics, offers CPHRs the opportunity to earn continuing professional development hours, and everyone the opportunity to network with other HR professionals. Through the calendar you can find out what events are being hosted by CPHRNL.
The calendar of events will list all CPHRNL events and events that the Association has partnered with other organizations.
All events require online registration and payment prior to the event. Please click on the event name for further details.