FREE Webinar: Dealing with Change, Mindfully
February 13, 2019 @ 2:00 pm

-

3:00 pm

Free – $29.99
Date: February 13, 2019
Event start time: 2:00pm Newfoundland Time
Location: Online
Presenter: Wendy Quan, Founder, The Calm Monkey
Description:
We welcome back a very popular mindfulness speaker, Wendy Quan. This session is about the fantastic technique of combining mindfulness meditation with change management to help people through challenging change.
Wendy will share her latest outstanding research results on this technique that helps people create a more positive experience of change, and discuss pilot studies currently being conducted within organizations using this technique.
Our past webinars featuring Wendy were sold out, so please register early.
Attendees of this session will be offered a VIP price for The Calm Monkey's 'Dealing with Change Toolkit'.
In this presentation, you will learn:
about the Individual Change Journey
what it means to combine change management and meditation
the outstanding results of this technique for individuals and workplaces
experience this meditation live for yourself
Who should attend:
Applicable to everyone. No prior meditation experience is needed. Attend for your own personal benefit and/or consider how this might benefit your organization.
About the presenter: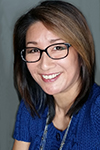 Wendy Quan, Founder of The Calm Monkey, is the industry leader in Mindfulness Meditation Facilitator Training and Certification, and is the first to combine change management techniques with mindfulness. The Dealing with Change Toolkit is Wendy's latest evidence-based resource that organizations can give to their employees so they can help themselves mindfully through difficult change.
As an industry pioneer, Wendy's award-winning, published white paper "Meditation – a Powerful Change Management Tool" is the case study of how she achieved 25% of Pacific Blue Cross' employees attending mindfulness sessions and boosted change resiliency through a major transformation. Results from the "Dealing with Change Mindfulness Meditation Study" unveiled impressive results in helping individuals through difficult change.
Wendy speaks at top-tier conferences which has included the Greater Good Science Center at the University of California, Berkeley, the Mindful Workplace Summit and the global Association of Change Management Professionals. Notable clients include Google, the government of Dubai, University of British Columbia, the U.S. Senate and many individuals who also want to make a positive difference in this world.
Wendy's corporate career included being the change manager at Pacific Blue Cross, IT and Human Resources. Her cancer journey led to her life's purpose: "To help people create a better experience of life through mindfulness meditation".
CPHR members in BC & Yukon and most other provinces are eligible to take The Calm Monkey's Mindfulness Meditation Facilitator Training & Certification courses at preferred price.

---
Format: Online – Live Webinar
Time: Log-in: 1:45 – 2:00pm (NST); Presentation: 2:00pm – 3:00pm (NST)
All login information will be sent to you via email the day prior to the session.
Both registration and payment are required for every person attending this webinar. Questions about registration or receipt can be directed to [email protected].
Note: If you have not received your login access information the day prior to the webinar date, or for inquiries regarding online workshops, please email.
This webinar is complimentary to all CPHR NL. Register early to avoid disappointment!
Registration Fees


Registration Deadline:
Friday, February 8

Member

FREE!

Non-Member

$29.99
All pricing excludes applicable taxes. HST/GST # 859974941
CPD hours

Competency

1.0
• Strategy
• Learning and Development
• Health, Wellness, and Safe Workplace
CPHRNL offers events through the year giving HR professions the opportunity to stay on top of current topics, offers CPHRs the opportunity to earn continuing professional development hours, and everyone the opportunity to network with other HR professionals. Through the calendar you can find out what events are being hosted by CPHRNL.
The calendar of events will list all CPHRNL events and events that the Association has partnered with other organizations.
All events require online registration and payment prior to the event. Please click on the event name for further details.