FREE webinar: Closing the Gender Gap in the Workplace
March 18 @ 2:00 pm

-

3:00 pm
Date: March 18, 2021
Event start time: 2:00pm Newfoundland Time
Location: Online
This webinar is a partnership with:

CPD hours

Practice Level (Hover mouse over icon for details)

Competency

1.0



Presenter: Caroline Codsi, Founder & Chief Equality Officer, Women in Governance
Description:
When it comes to closing the gender gap, many tools can make a difference. The organization can offer women at all levels of its hierarchy training and mentoring to achieve career advancement, thus creating a female pipeline of talents.However, to achieve long term results and retain talents, the corporate culture has to be nurtured too. This is where having a tool to assess that the organization's practices, programs and actions are geared to facilitating the progress towards equitable representation of women at all levels, until parity is achieved and sustained, is key.

Why are diversity and inclusion important, what are the benefits to the organization and how to reach parity will be covered during this presentation.

In this presentation, you will learn:
Current status of gender equity in Canada
Understanding core concepts of Inclusion & Diversity
The positive impact of the presence of women in decision-making bodies on an organization's financial performance
Opportunities & Benefits of diversity, inclusion and intersectionality
The Women in Governance holistic approach to closing the gender gap in the workplace
Who should attend:
The webinar targets Directors and Executive members of large organizations as well as decision makers at the SME level. While Inclusion & Diversity requires buy-in across the whole organization, endorsement of such practices must start at the decision-making segment of the organization.
Format: Live Online – Zoom Webinar
Time:
2:00 – 3:00 pm – Newfoundland Standard Time

You must register through CPHR BC & Yukon. The link for registration can be found at the top of this page or here.

All login information will be sent to you via email the day prior to the session.

Both registration and payment are required for every person attending this webinar. Questions about registration or receipt can be directed to pd@cphrbc.ca.
Note: If you have not received your login access information the day prior to the webinar date, or for inquiries regarding online workshops, please email or call 604.684.7228.
---
About the presenter: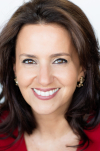 Caroline Codsi is the Founder & Chief Equality Officer of Women in Governance, a non-profit created in 2010 with mission to help women access decision-making bodies and male dominated fields through advocacy, major events, mentoring programs, governance training and a Parity Certification.
A Citizen of the world having lived on three continents, Caroline was born in Beirut and grew up through the civil war. A highly sought-after speaker, Caroline has addressed audiences across the globe, including two TEDx. She was nominated by Prime Minister Justin Trudeau on Canada's National Gender Equality Committee.
Caroline is recognized as a Top 20 Diversity Leading Figure in Quebec, Top 75 Canadian Immigrant, Top 100 Most Powerful Women in Canada and Top 100 Entrepreneurs changing the world.

This webinar is complimentary to all CPHR NL members. Register early to avoid disappointment!
Registration Fees: FREE to all!
Registration Deadline: March 15, 2021
Fees and/or agenda are subject to change without notice.
All pricing excludes applicable taxes. HST/GST # 119446714
CPHRNL offers events through the year giving HR professions the opportunity to stay on top of current topics, offers CPHRs the opportunity to earn continuing professional development hours, and everyone the opportunity to network with other HR professionals. Through the calendar you can find out what events are being hosted by CPHRNL.
The calendar of events will list all CPHRNL events and events that the Association has partnered with other organizations.
All events require online registration and payment prior to the event. Please click on the event name for further details.